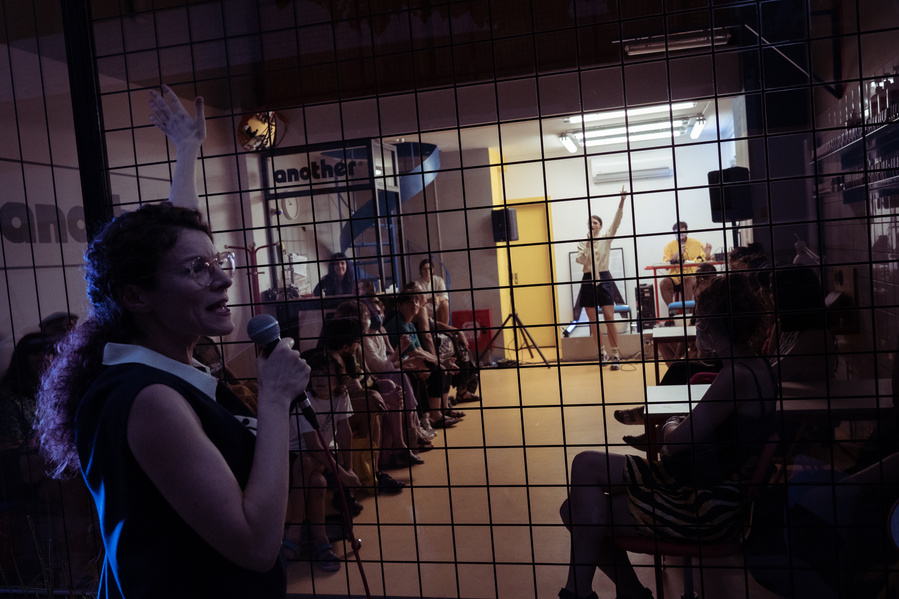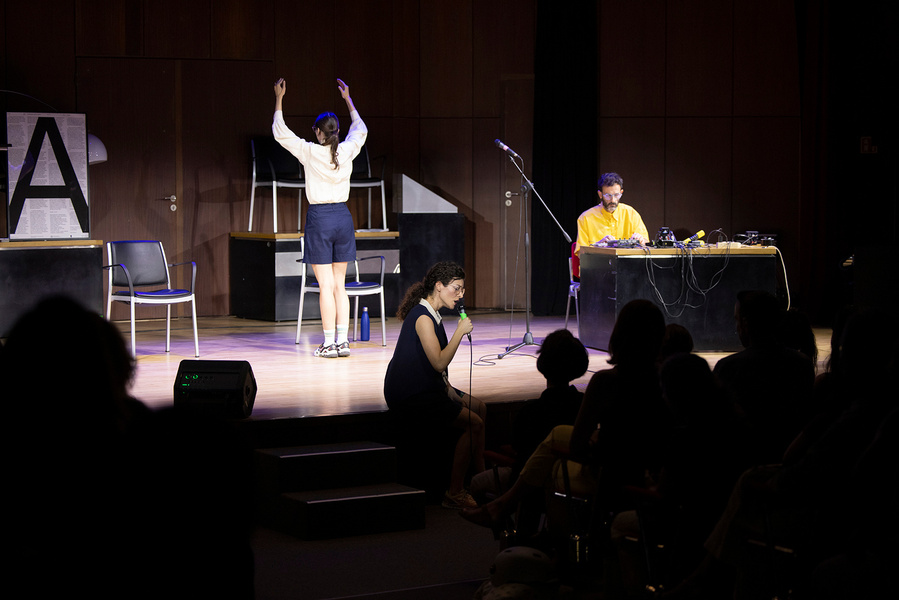 "You are a person in love with the impossible". Ismini says, talking about her sister, Antigone, in Sophocle's. Antigone as a cross-cultural exploration of justiceand embodied resistance, is the main idea of this work. So how come we are revisiting Antigone when so much has been said about her?
Sofia Mavragani's work "A Live" draws from the fields of theory, praxis, textuality, sound and physicality and lies someone at the interstices between concert, lecture and dance performance. A choreography of words and concepts based on the texts and thinking of Athina Athanasiou, Anne Carson, Fred Morten, Judith Butler, Tzina Politi, and Elena Tzelepi.
A work starring the ideas that emerge from Antigone's very own actions. Maria Vourou, Antigoni Frida and Larry Gus/Panagiotis Melidis play with the power of speech, theory, music and movement on stage, composing a collective text that can (or cannot?) be heard, sung and danced to.
"A Live" took place at 4 different venues: a traditional coffee shop, a nail studio, an outdoor aqueduct and an amphitheater.
Concept, composition: Sofia Mavragani
Performers,co-makers: Maria Vourou, Antigoni Frida, Larry Gus/Panagiotis Melidis
Music: Larry Gus/Panagiotis Melidis
Artistic Collaborator: Babis Makridis
Research Collaborator: Elena Tzelepi
Costumes: Vasileia Rozana
Light design: Miltos Athanasiou
Dramaturgy: FBDS
Photos: Thomas Beltsios, Despina Spyrou
Graphic design: Dimitris Politis
Press: Maria Tsolaki
Production manager: Giorgos Kalantzis
Production: Fingersix/Athens
In collaboration with the research project "ANTIGONES: BODIES OF RESISTANCE IN THE CONTEMPORARY WORLD [ANTISOMAΤΑ]"
With the support of the Duncan Dance Research Center and the Goethe-Institut Athen
With the financial support of the Hellenic Ministry of Culture & Sports